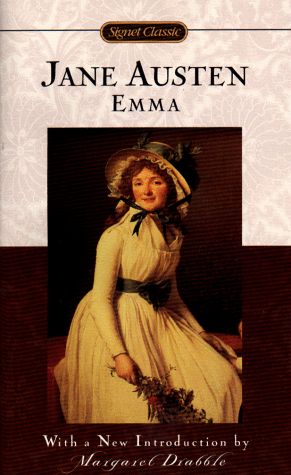 Emma synopsis Yes, it is true I finally finished it. Normally I get through a book very fast. However, this book was written so long ago and the english language has evolved very much since then. It was just a fun happy read. I can actually identify myself with Emma and I am a lot like her. Some of our situations are very similar. Emma is full of life and humor. She,at times, does not realize how her actions will affect another person until she is told that it has done so. She also does not realize her romantic feelings for another until her friend expresses those same feelings for that person. There is no deep controversy in this book unlike the books I normally like to read. It is just fun and ends "happily ever after" Sometimes, you just need to read books like that. It is beautifully written. Language to me is beautiful and can be expressed in so many different ways and dialects. However, it does change over time. Words that mean one thing today will mean something completely different tomorrow. Also, words can be twisted and changed to mean something completely ugly and be considered what is now a "bad" word. There are words that are offensive to me that are not offensive to others. Likewise there are words that are no big deal to me but others find them to be offensive. My husband and I differ on words that our kids can say to express their displeasure on something. I have come to learn that words are just words and we are the ones who make them out to be something offensive. Yet, I digress. The reason it took me such a long time to finish is due to how the book was written. Not that it was hard to understand...I just had to take more time reading it to understand what Jane Austen was saying between the characters. This book i picked just for fun. It definitely excercised my brain. I believe that just like our bodies need excercise, The brain needs to be stimulated also. I do have one favorite quote out of this book. It is a conversation between Emma and her father about Emma going somewhere. Mr Wood house was not pleased. Here is Emma's plea to go :
"

Oh! yes papa. I have no fears at all for myself and I should have no scruples of staying as late as Mrs. Weston, but on your account. I am only afraid of your suitting up for me. I am not afraid of your being exceedingly comfortable with Mrs Goodard. She loves piquet, you know but when she is gone home, I am afraid you will be sitting up by yourself, instead of going to bed at your usual time---and the idea of that would entirely destroy my comfort. you must promise me not to sit up."
Can you imagine our kids pleading today like that? This made me laugh. Today kids are more likely to say "That is so unfair! You are ruining my life. Why can't you trust me and not wait up for me on the couch? I can't go out there and have any fun thinking of you waiting there for me wondering what I am doing? (ugh....I will now stomp to my room in utter disgust and slam my door. )
I will now be reading holiday fun stuff. The next book is The Christmas Shoes. I have a whole other blog I will be doing on my thoughts of the holiday season soon.
(leave comments...I love the email responses but would love comments on my blog better ;)